Eric has been imploring me write a review on Cik Mek Molek. I've been there a few times after reading about it in a local paper and Eric went there twice during his last trip back to Malaysia but for some unexplainable reason, it was closed both times. What made the whole thing stranger was that when I asked the owner why he was closed during that period, he gave me a strange stare and said that they were never closed. The whole thing had a "Twilight Zone" vibe to it but anyways to torment Eric further on missing out on Cik Mek Molek, here is my much-delayed review of the place.
Cik Mek Molek is a stall run by two good friends at the SS3 Selera Wawasan food court. It offers highly authentic but not easy to find Malay cuisine like Nasi Kerabu, Laksa Johor, and my personal favorite, the Laksam Kelantan. Cik Mek Molek offers a few other items on its interesting menu including Mee Bandung, Mee Jawa and perennial favorite Nasi Lemak but certain items are only available on certain days. However, I'm going to limit my review to the first 3 items, namely the Nasi Kerabu, Laksa Johor and Laksam Kelantan and perhaps cover some of the others in a follow up article.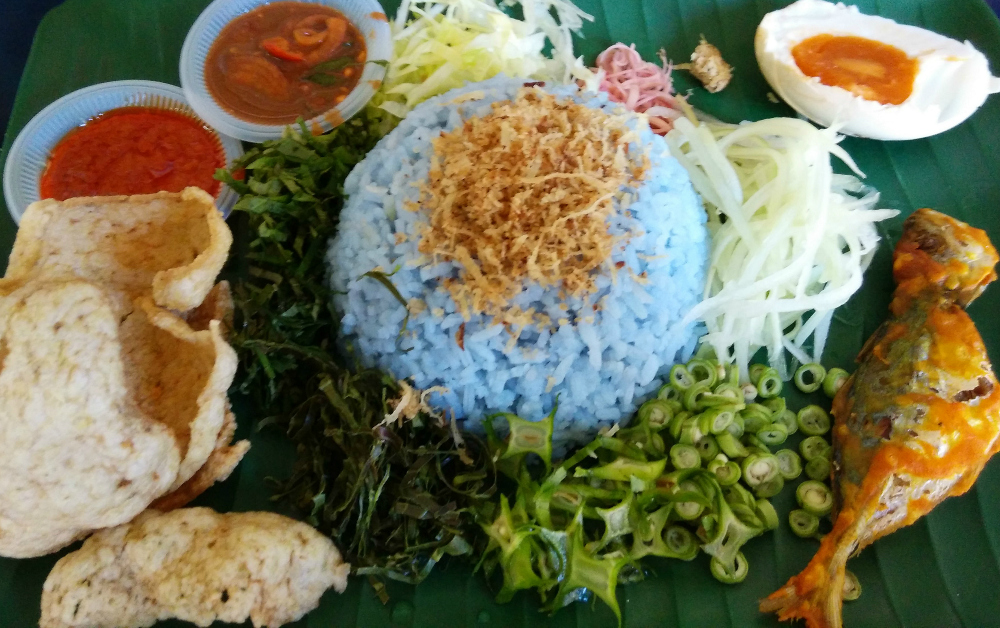 Let us start off with the Nasi Kerabu. Nasi Kerabu is best described as funky blue rice served with salad. The bluish tint in the rice comes from the blue-pea flower. I made a count and the Nasi Kerabu at Cik Mek Molek comes with no less than 11 different types of salad and accompaniment including a piece of fried fish, half a salted egg and a few pieces of keropok (fish crackers). This does not include the sambal (chili paste) and budu (fermented fish sauce) that gives a little extra kick.
I've had Nasi Kerabu elsewhere but the one at Cik Mek Molek is one of the most authentic I've eaten in a long time. As you can see from the photo, there is a lot of work involved in slicing up the salad and cooking the individual accompaniments. Most places skimp by cutting down on the number of items to keep the dish simple and less laborious.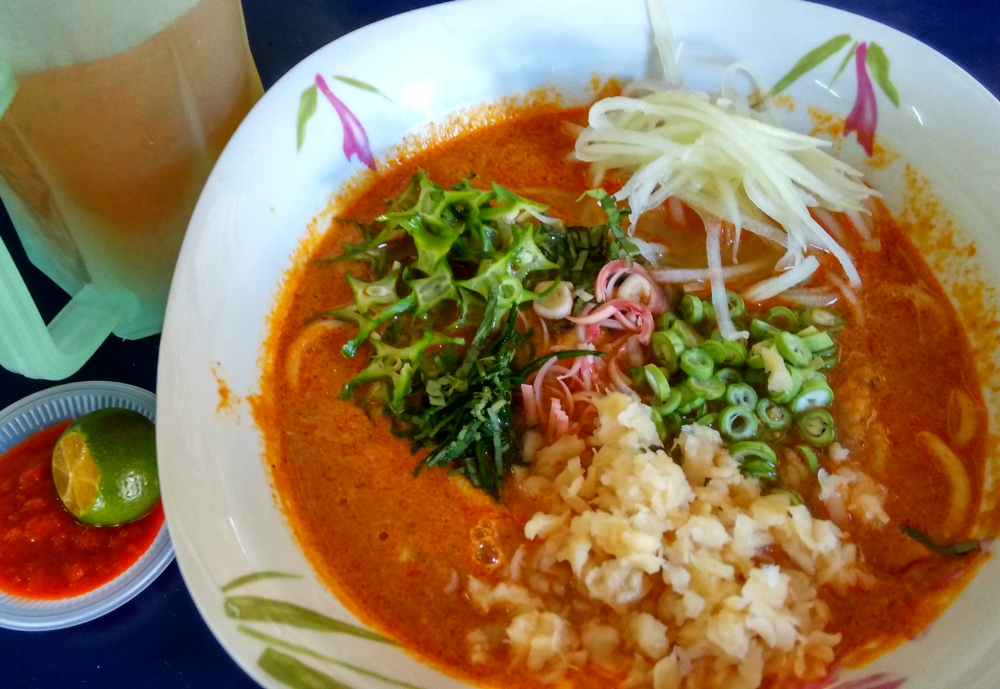 Next up is Laksa Johor. Laksa Johor is a strange concoction from down South that marries ingredients from the west and the orient, but cooked in a distinctively Malay style. Logic dictates that it shouldn't work but it does and it is delicious. The western influence comes from the use of spaghetti as noodles for the dish. The spaghetti is then slathered in a rich, spicy, fishy broth with lots of coconut milk which you can spice up further by adding sambal. A garnishing of finely chopped raw veggies and chye poh (preserved radish – the oriental element in the dish) completes this unique dish. The chye poh gives it that wonderful crunchy bite and adds a little saltiness to the laksa. There is a little similarity with Penang Laksa due to use of a fish-based broth but Laksa Johor is not sour and the use of santan makes the Laksa Johor broth much creamier and to me, that much more satisfying.
Once again, what makes the Laksa Johor at Cik Mek Molek great is its authenticity. There is a lot of work in steaming or boiling the fish and then deboning before mashing the fish flesh to create the base. Some places cut corners by using sardines or other canned fish but not here. Perhaps that is also the reason why Laksa Johor doesn't get served at Cik Mek Molek until about 9:30 am or thereabouts. It takes time to prepare the base. However, get here too late you will also miss the boat as they run out of the soup real fast.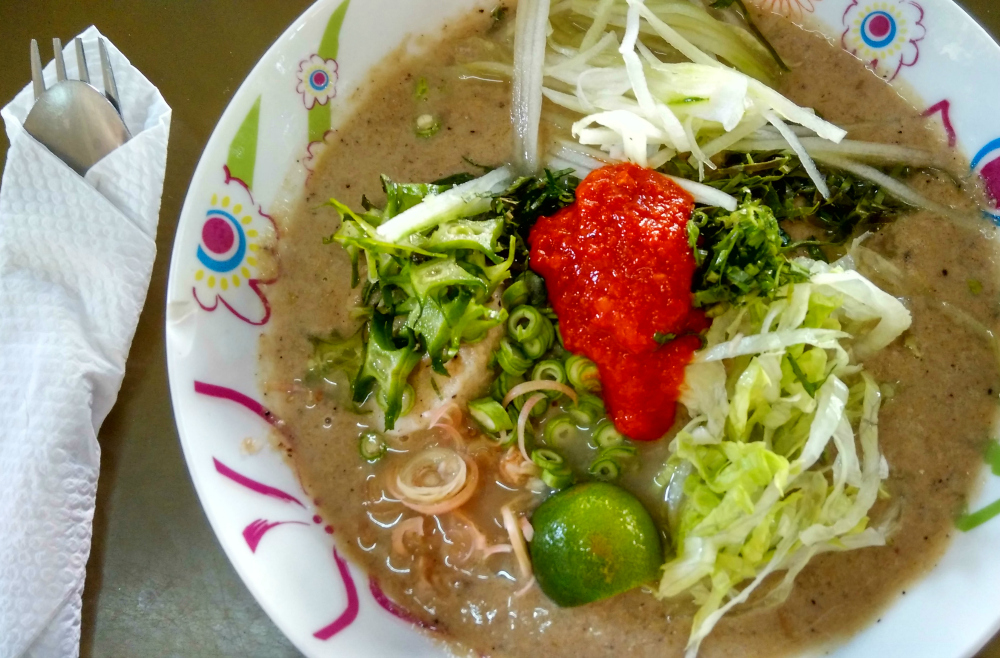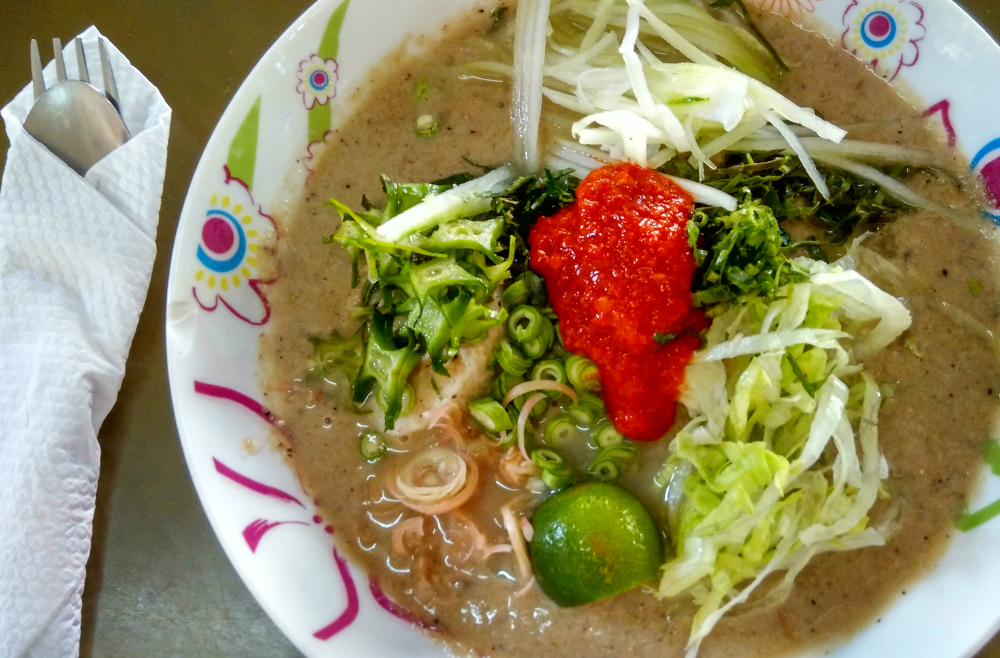 Last but not least is the Laksam Kelantan. It is my personal favorite because I have fond memories of eating Laksam growing up in the east coast of West Malaysia. There are two versions of this laksa. The more common version uses rice noodles similar to the one used in Penang Laksa and is commonly referred to Laksa Kelantan. The other version uses a flat rice noodle sheets that are rolled up and then cut up, similar to Chee Cheong Fun and it is referred to as Laksam Kelantan. The latter is what they serve at Cik Mek Molek.
Laksam Kelantan has a lot of similarities to Laksa Johor. It too has a fish based broth with lots of coconut milk. It is also accompanied with a garnishing of fresh salad. The soup broth is usually non-spicy and has a bland, white shade due to the coconut milk used. The idea is to spice up the broth by adding sambal chilli paste and for extra kick, you add in belacan (shrimp paste). Put in a huge dollop of sambal, mix it all up and you get one of the best noodle dishes in the world.
It is hard enough as it is to find places that serves good Laksa Kelantan. And even if you managed to find such a place here around Klang Valley, more likely than not, they serve the Laksa Kelantan version that uses the commercially and more easily available long rice noodles. Cik Mek Molek is the only place that I know of that goes the extra mile by serving the flat noodle style Laksam Kelantan. Take note that Cik Mek Molek only serves Laksam Kelantan on Mondays but it is worth the wait for this weekly ambrosia.
Location: Cik Mek Molek, Stall No. 9, Selera Wawasan, Jalan SS3/33, Petaling Jaya, Selangor, Malaysia. Opens 7:30am till 2:00pm on weekdays only.