The owner of Due Italian is an accomplished and experienced chef who has had a string of successful restaurants. According to his homepage profile, the had a revelation about ramen. He wanted to make ramen that is delicate and suitable for the consumption of everyone from young children to the elderly. Ramen Due Italian was a result of his sudden fascination with ramen.
Due Italian has quite a few items on their menu. There are several staple ramen classics such as the shio ramen and shoyu ramen but the rest of the items have a rather unusual twist of Italian influence such as fromage ramen, lemon ramen, cold tomato ramen, white ramen (topped with parma ham), foie gras radish ramen and persimmon vinegar tsukemen.  The shio ramen and their rather unique version of tomato ramen caught my eye right away and I could not resist ordering both during my first visit!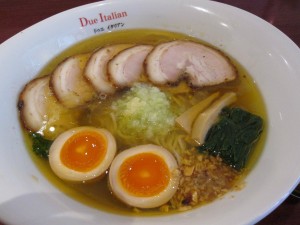 First the shio ramen. This is almost as good as it gets. The soup is delicate yet flavorful, and the charsiu and egg cooked to perfection.  The charsiu is tender with a sliver of of fat (they probably put some effort towards trimming down the fat on the pork belly), lightly charred on the exterior to give it a smoky accent. The egg yolk is creamy and the egg white had been sitting in the marinade broth for the right amount of time. The crisp garlic bits is a nice aromatic touch.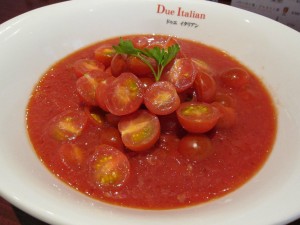 The cold tomato ramen looks amazing, the sauce is bright red and the cold noodles and sauce are further topped with a load of sweet mini cherry tomatoes. The result? It is tasty, in the same way that a salad is tasty but at the same time I find myself clamoring for something more substantial. Ramen should be satisfying, it should not make one feel like it is merely a prelude to something else. I prefer Taiyo no Tomato Men's signature tomato ramen. However that is their forte and what they are famous for.
When time permits, I shall definitely make my way back there to sample all the other menu items.
Open from 11:00-16:00, 17:00-22:00 (Mon-Fri); 11:00-22:00 (Sat); 12:00-21:00 (Sun, Holidays)
Homepage: http://www.dueitalian.jp/
Location: 東京都千代田区九段南4-5-11富士ビル1F